Fire Light Hydrangea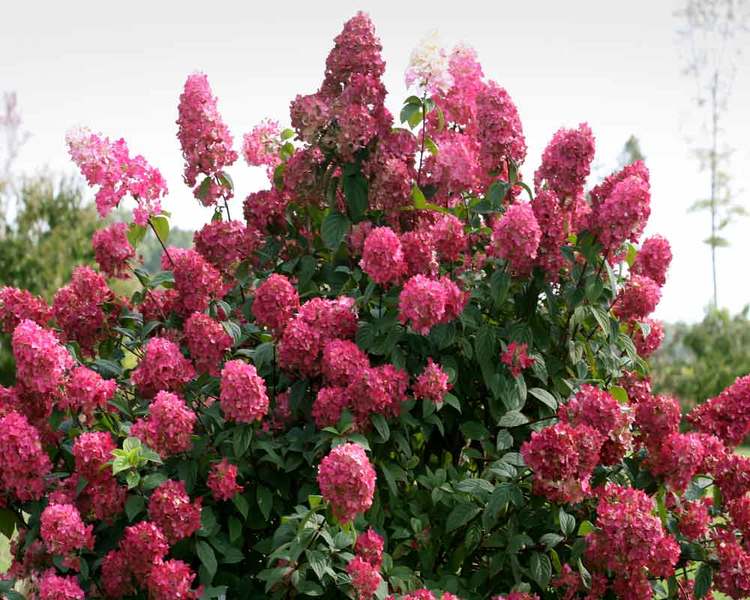 Fire Light® is the standard to measure all panicle hydrangeas! Selected for its huge, full flower
heads and sturdy, strong stems. Blooms emerge creamy-white and age to a vivid red for lots of
summer color. It makes a great cut flower, fresh or dried, and can be used as a hedge, specimen,
or incorporated into flower gardens and foundation plantings.
Top three reasons to grow Fire Light® hydrangea:
Exceptionally hardy, growing and flowering well even in chilly zone 3
Large flowers age to red early in the summer for a colorful display
Low-maintenance and easy to grow – the perfect plant for "black thumbs."
Zinfin Doll Hydrangea
A beautiful new hardy hydrangea with loads of bodacious blooms that emerge pure white and then turn bright pink from the bottom up. Flowers eventually age to a dark pink-red, and stay colorful for months. It looks a bit like classic Pinky Winky hydrangea, but with full, mophead flowers, and it blooms much earlier, too. Strong stems hold the flowers upright in the garden, and make it an excellent cut flower, too.
Top three reasons to grow Zinfin Doll panicle hydrangea:
Large, colorful mophead blooms appear earlier in summer than other varieties
Blooms every year, no matter how harsh winter was
Provides 3+ months of flowers
Incrediball Hydrangea
Super-sized flowers!
This stunning hydrangea is a bit of a prodigy.  We were looking for a hydrangea like the old favorite 'Annabelle', but one that wouldn't flop over.  We found it…and it had supersized blooms, too!
This adaptable native plant produces huge flowers (as much as 12″ across) and is both reliable and beautiful. Flowers open green, then mature to white before turning green at the end of their life cycle. Very cold hardy Incrediball blooms on new growth so even very cold winters won't keep it from blooming. The flowers are held upright on very sturdy stems, so they don't flop like 'Annabelle' will.
Bobo Hydrangea
Loads of flowers on a tiny plant!
This dwarf panicle hydrangea will turn heads! Bobo® hydrangea is engulfed by large white flowers in summer. The flowers are held upright on strong stems, and continue to grow and lengthen as they bloom. No flopping, unlike some panicle hydrangeas! As blooms age, they turn pink.
It is compact and dwarf in habit, and the flowers cover every inch of the plant right down to the ground. This plant was developed by Johan Van Huylenbroeck, the same breeder that developed Pinky Winky® hydrangea.
Mini Penny Hydrangea
Large mophead flowers appear nearly continuously on this exceptional dwarf, compact shrub. Blossoms tend to be blue when planted in acidic soils, and pink in more alkaline soils. A wonderful container plant, low flowering hedge or highlight of a flowering border. Highly disease resistant foliage. Deciduous.