Whether it is a Sunny area or a Shady area, we have the plants you need and the color you want that comes back year after year.
Sunny Areas:
Bobo Hydrangea
Loads of flowers on a tiny plant! This dwarf panicle hydrangea will turn heads! Bobo
®
hydrangea is engulfed by large white flowers in summer. The flowers are held upright on strong stems, and continue to grow and lengthen as they bloom. No flopping, unlike some panicle hydrangeas! As blooms age, they turn pink. It is compact and dwarf in habit, and the flowers cover every inch of the plant right down to the ground. Deciduous.
Smoothie Hibiscus Althea
Beautiful double blooms adorn this medium sized shrub from mid to late summer. Matures at 8 feet tall by 4 feet wide growing upright with green serrated leaves. Easily adapts to various soil types, pHs, pollution, etc. Deer and drought tolerant once established. Available in pink, bluish-purple, raspberry and white with splashes of pink blooms. Evergreen.
Neon Splash Spirea
Bright neon red flowers appear over a long period, Spring thru Fall, and are offset by a neat mound of rich green foliage that becomes dark burgundy in fall. Creates a colorful low hedge or mass planting. Deciduous.
Golden Elf Spirea
An incredible new dwarf Spiraea, which is great for rock gardens, borders and mixing into the perennial garden. It can also be used as an edging plant for paths or walkways. This little yellow leaved beauty only grows to 6-8 inches high and has a spreading habit. It looks and acts a whole lot more like a ground cover perennial! Tiny pink flowers in small flat-topped clusters appear in late spring. Some sporadic reblooming, sometimes occurs in summer.
Shady Areas:
Wedding Gown Hydrangea
This exceptional hybrid features fully double blooms on notably strong stems, and a well-mounded form with lush dark green foliage. A repeat bloomer, spring through fall. Each flower cluster transforms into an exquisite, pristine white bridal bouquet as a stunning outer ring of large blooms first unfolds, followed by lovely smaller inner blooms. Deciduous.
Empress Wu Hosta
The world's largest hosta! Over four feet at maturity with gigantic, deeply veined, two-foot leaves. Pale lavender blooms appear just above the foliage in early to midsummer. An outstanding focal point and conversation piece in your shade garden. Deciduous.
Endless Summer Hydrangea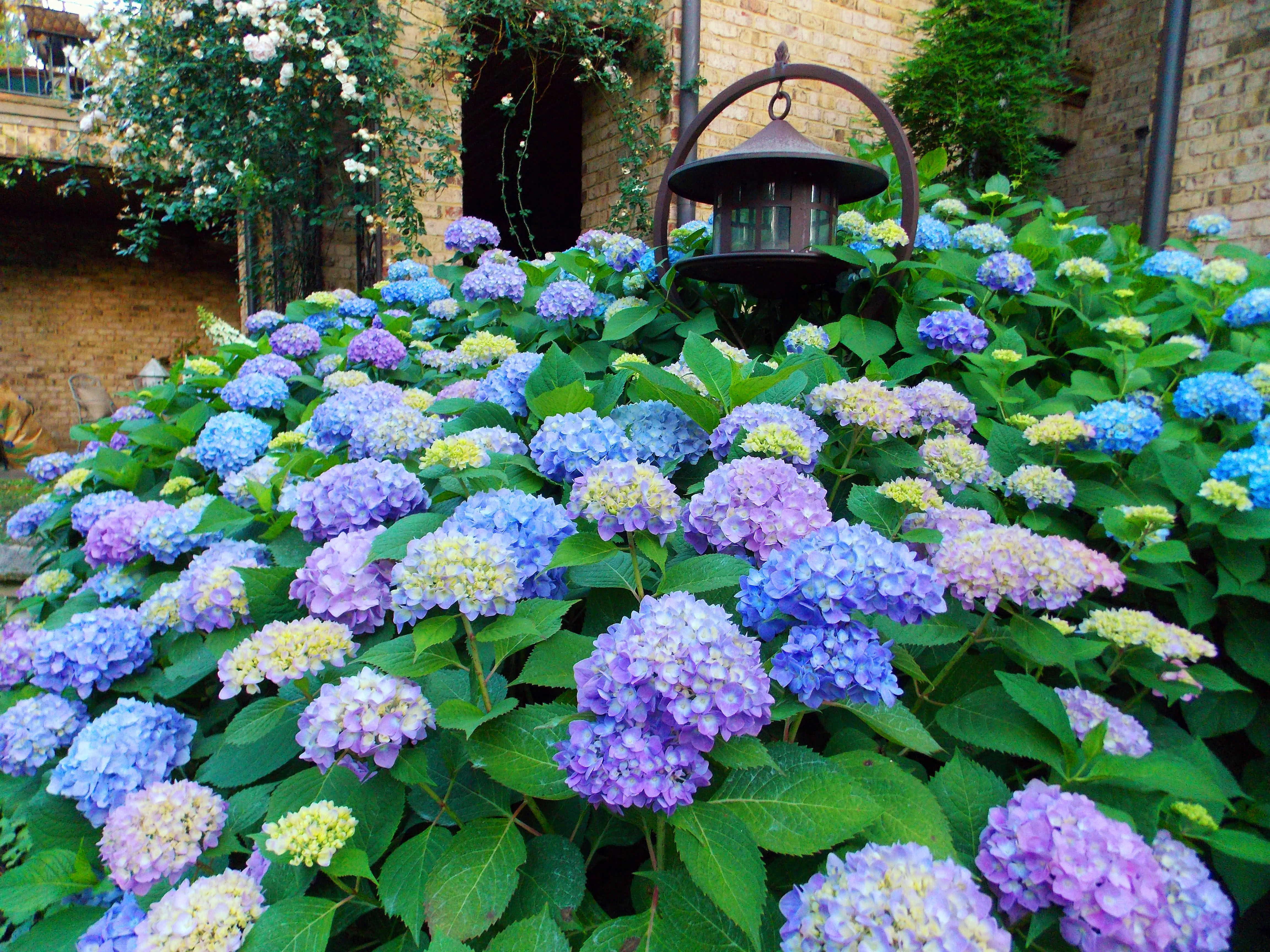 A Bigleaf Hydrangea with flowers that form on the new and old wood growth. Endless Summer® will rebloom throughout the summer and the flower heads are up tp 9" across. Bloom colors are—blue on acid soils, pink on alkaline and anywhere in between purple and white depending on soil pH. If your blooms are not the color you want we have the product to change that. Deciduous.
Coppertone Distylium
It is a mid-sized spreading to rounded evergreen with coppery-red new foliage that matures to blue-green. A member of the witch hazel family, it produces petite red flowers that appear in the winter. This adaptable plant is tolerates drought, heat and wet soil, once established. It also displays exceptional resistance to disease and insects. Evergreen.
Mojo Pittosporum
Mojo is a tough, evergreen shrub, with dense variegated foliage and orange blossom scented blooms. Great for hedges and foundation plantings. The compact habit doesn't require pruning, but if you want to shape it, it handles pruning like a boss. Disease resistant and drought tolerant once established.
Heuchera
Beautiful colorful foliage in various colors from reds, purples, oranges, multiple shades of green and variegated colors as well. Many different color choices to brighten up any shady area. Blooms late spring/Early summer. Heuchera plants are grown for their foliage, but the flowers are very popular with hummingbirds, so let them stay.